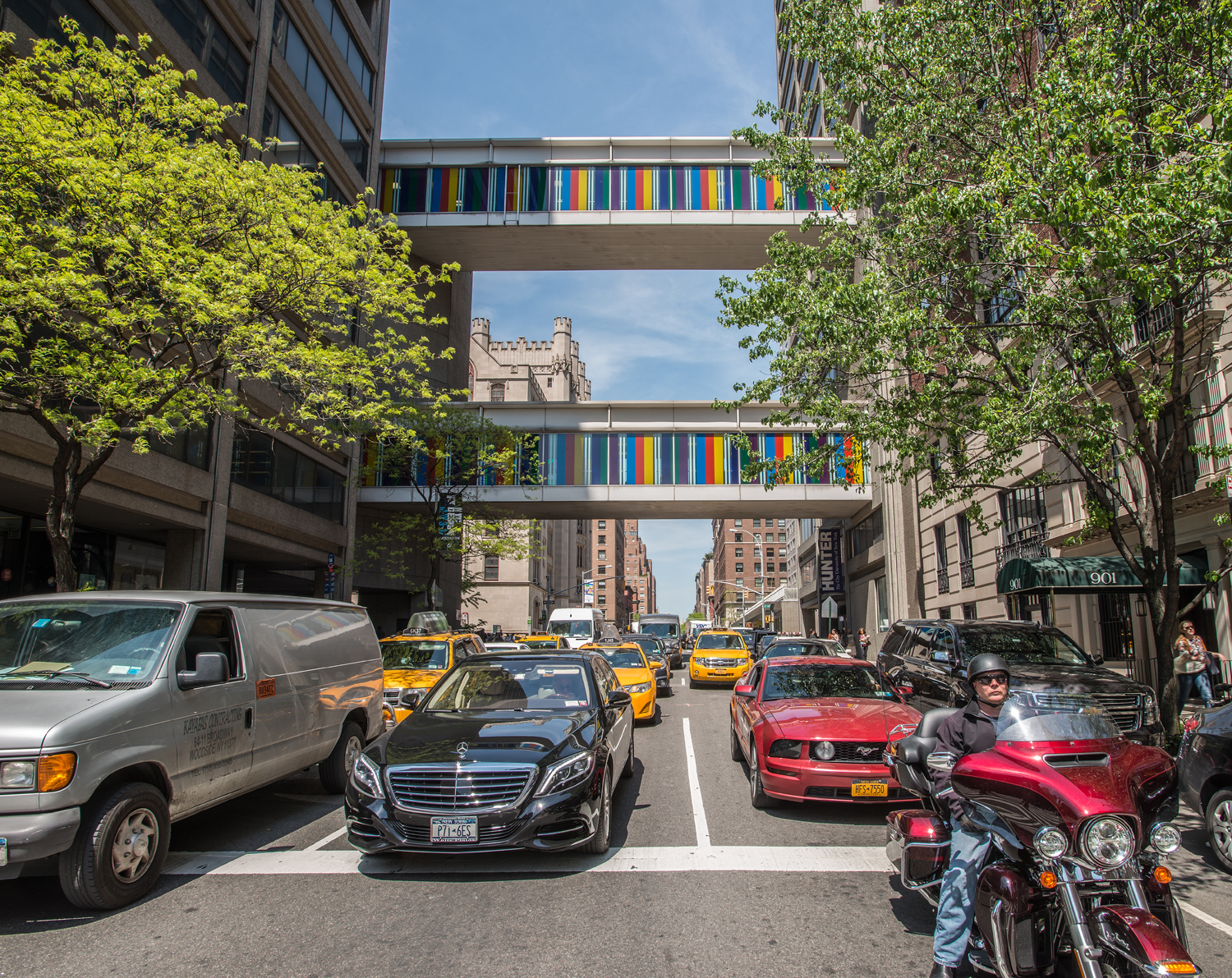 Photo-souvenir: Bayadères for Two Skywalks, March 2016, work in situ, Hunter College, New York, NY, United States, March–December 2016. © Daniel Buren/ADAGP, Paris. Photo by Bill Orcutt.
 
Bayadères for Two Skywalks: A site-specific work by Daniel Buren
On view through Saturday December 31, 2016
Leubsdorf Gallery
Hunter West Building
132 East 68th Street
New York, NY 10065
"It is by working for a given exhibition site that the work in situ—and it alone—opens up the field for a possible transformation of the very place itself." — Daniel Buren
Daniel Buren (b. 1938) is a French artist whose work is rooted in the avant-garde conceptual practices of the 1960s. Buren has long engaged in creating large-scale site-specific works, conceiving and executing these works in response to their specific architectural and institutional setting and using these elements as cues for reimagining the space. For Hunter College, Buren has transformed the iconic skywalks into prismatic passageways, rendering a familiar space unfamiliar. This intervention creates an opportunity to engage with the architecture in a new way—prompting questions about how we experience color, light, and space and how those elements alter the social and physical environment. As in all of Buren's site-specific work, the artwork itself is only completed through interaction, eliciting the viewers' intellectual, emotional, and sensorial response as they move through the space.
This work is presented in conjunction with the exhibition Buren, Mosset, Parmentier, Toroni, on view at the Hunter College, 205 Hudson Street Gallery in Tribeca, through April 10, 2016. This exhibition—the first critical examination of the significant, albeit brief, work of the four artists in 1967—seeks to reexamine the group by placing its work in context with the broader conversations surrounding institutional critique, performance, and the role of painting as a political medium.

Bayadères for Two Skywalks is made possible by LVMH / Moët Hennessy–Louis Vuitton with additional support from the David Bershad Family Foundation and Susan V. Bershad Charitable Fund, Inc.; the Brant Foundation, Inc.; Arthur and Carol Kaufman Goldberg; Andrew and Christine Hall; the Hunter College Foundation; Stephen King, C12 Capital Management; the Anna Maria and Stephen Kellen Foundation; President Jennifer J. Raab; and an anonymous donor.